View cart
"LSD Reagent Test Kit" has been added to your cart.
LSD Dual Reagent Test Kit (2 tests)
€7,69
FREE PRIORITY MAIL ★ Daily dispatch at 11 GMT ★ Discreet packaging ★ Shipping label with no mention of "PRO Test"
Mix&Match! (discounts apply in cart):
Get 2 kits, receive 4 tests / 3.20 € each
Get 4, pay for 3 (8 tests / 2.88 €)
Get 7, pay for 5 (14 tests / 2.75 €)
Get 10, pay for 7 (20 tests / 2.56 €)
Description
By purchasing Dual LSD PRO Test Kit you promote harm reduction and the fight for drug policy based on human rights and facts, not prejudice.
DUAL LSD TEST KIT
Dual LSD Test Kit includes 2 single-use reagents for "Acid" as well as its common adulterants. It is used to positively identify LSD, 1P-LSD, AL-LAD, ETH-LAD, ALD-52 and to rule out 2C-B, NBOMe, N3OMe, NBOH, NBF, DOx, and different, less predictable and less desirable, highly toxic dangerous drugs. Multiple reagents are required to detect adulterants and increase analysis precision.
The Dual LSD Test Kit instructions and apps feature over 100 substances. Each single-use vial contains 0,2 ml (4 drops) of a reagent. Glass protects reagents from light, plastic, and moisture to ensure prolonged shelf life. For extra-stealth ask us in the checkout notes to remove substance-related stickers and fliers.
Dual LSD PRO Test Kit consists of 2 reagents: Ehrlich and Hofmann (2 tests total). It's best to use this set for LSD or DMT, but it's also a good test for all lysergamides and tryptamines.
NOTE: Reagents deteriorate with time, especially if exposed to sunlight or not refrigerated. If you are uncertain whether a reagent will work, test it with a previously checked sample.
Are you still looking for the best reagent test? See all drug testing kits HERE. 
Looking where to buy a different test for LSD?
HANDLING
Reagents consist mostly of concentrated acid and are strong enough to burn skin and clothing. Keep out of eyes and mouth. Keep away from children. Always use in a well-ventilated area. Wear gloves (supplied) when handling the bottle and cap. Wear protective eyewear. Never point towards face etc. If you get some on you/clothing, then immediately wash with lots of soap and water. Dispose of any unwanted reagent with running water and baking soda, ventilate. Store reagents away from heat in a cool, dark place. The average shelf life of 2 years can be significantly extended by storing in a freezer (warm to room temperature before use). A positive or negative reaction does not indicate if a substance is safe. No substance is 100% safe.
Instruction
NOTE: Dual LSD Test Kit can only test the PRESENCE, not PURITY or QUANTITY of a specific substance. Always test under a strong light and using the smallest possible sample. Never open more than 1 bottle at once, if you make a mistake you might contaminate the reagents and spoil them. If a few reactions are happening at once, only the darkest one of them will be visible.
TL;DR: Here is an image with a quick cheat sheet how to use the LSD test kit, or check out more detailed guide on how to test LSD further below.
How can I test LSD?
BEFORE using an LSD test kit
It's RECOMMENDED to record the reaction to compare later
STEP ONE for testing LSD blotters / tabs / crystals
Take a (small) corner of your tab.
Put it on a suitable testing plate, preferably a spot test plate or the bottom/underside of a ceramic mug (example). *If using single-use vials insert the sample and observe, as the reagent is already within.
Add one (or two) drops of Ehrlich reagent test (or other supplied) on the sample and wait for the results.
Check reagent test results with instructions.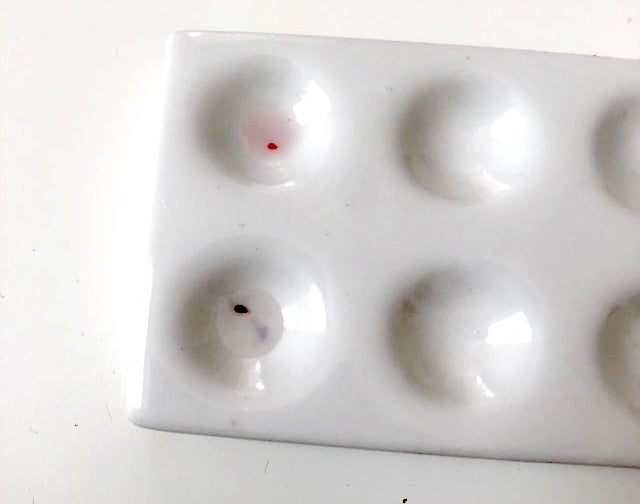 How to use an LSD test kit?
Check test results with Ehrlich test kit: if testing LSD the exact color of the reaction is not important – the test is of a yes/no type. It will go purple or pink if it is exposed to an indole compound like LSD, an analogue of LSD or a tryptamine. No 0.5cm² blotter can fit an active dose of tryptamine onto it.
NBOMe compounds and other phenethylamines (like 2C-B) will not give a colour change with the Ehrlich reagent.
STEP TWO testing LSD for adulterants
Only if your tab doesn't change color within 10 minutes (like this example):
THEN in addition to this it is good to use test kits Marquis, Mecke or Froehde. These do make the paper go brown but if there is something like DOC present then the liquid itself usually gives a pretty vivid green colour change.
In case of doubt that Ehrlich test result could be a false positive, use Hofmann reagent to test more specifically for LSD and tell it apart from other indoles. It's more precise than Ehrlich, but reacts slower. Keep in mind that other reagents are much less accurate/reliable, according to Erowid.org.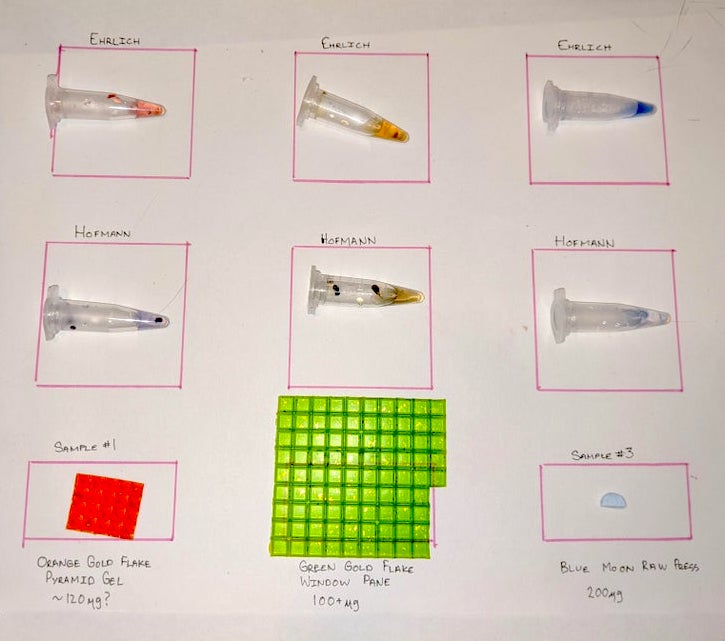 AFTER using an LSD test kit
OPTIONAL: Pour baking soda over a finished reaction to neutralize used reagents.
Wash testing surface under running water.
FAQ
BITTER tasting tabs. Just because a blotter/tab tasted (slightly) bitter doesn't mean that it wasn't acid. Ink can be bitter but so are many other chemicals. Hofmann himself in his notes wrote pure LSD-25 has a slight bitterness.
False positives. To check if Ehrlich test result could be a false positive, use Hofmann reagent to test more specifically for LSD and tell it apart from other indoles. It's more precise than Ehrlich, but reacts slower.
Speed of the reaction does not indicate quantity nor purity. However, if you are having trouble interpreting your result try using a bigger sample.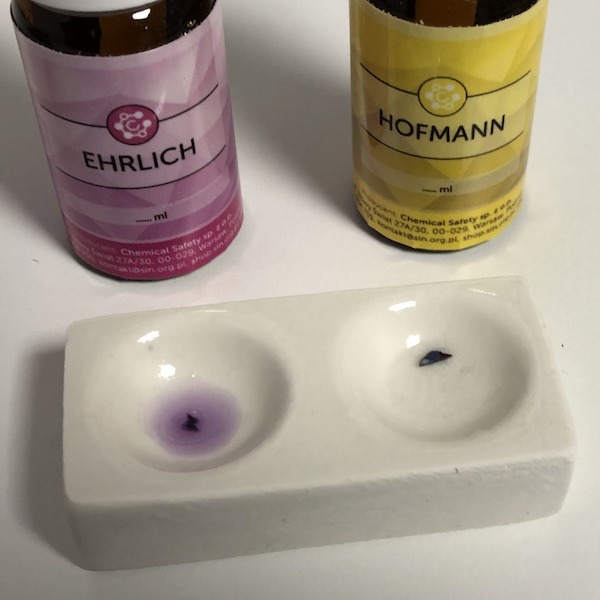 How many tests can you get from one test kit? A multiple-use test kit lasts up to 100 (5 ml) or 200 (10 ml) tests. Each drop equals one test. A single use-test kit contains 2 disposable ampoules (2 tests).
All LSD test results:
LSD test did not react as indicated? Watch out!
All test results are available in our instructions and TestDrugs app.
How to check if reagent for testing LSD works?
Test any substance and compare color reactions with instructions. It's easiest to use 5-HTP or melatonin with Ehrlich reagent, which should turn pink / purple or blue.
Keep a sample to compare later in case of doubt. If control sample reacts fine, it means the reagent still works.
App and support available
Amber glass for corrosives
Designed to last you years
We refund unused test kits
5% of profits goes to PAH