Description
By purchasing the PRO Ehrlich Reagent Test Kit you promote harm reduction and the fight for drug policy based on human rights and facts, not prejudice.
EHRLICH REAGENT
Ehrlich reagent is one of the primary tests for lysergamides (e.g. LSD, Acid) and tryptamines (e.g. DMT). It helps rule out 2C-x, DOx, NBOMe or different psychedelic phenethylamines. It reacts the same to every indole-based substance, (e.g. 5-HTP), therefore should always be used together with Hofmann test. PRO Ehrlich Reagent Test Kit includes a ceramic reaction plate, spatula, gloves, instructions and app for all test kits and over 700 substances. Every bottle contains 10 ml, 100 tests in total. Brown amber glass protects reagents from light, plastic, and moisture to ensure prolonged shelf life. Special fluorinated high-quality cap guarantees 0 spills.
The Ehrlich reagent on its own it is slightly yellow. It's best to use Ehrlich reagent to test LSD or DMT, but it's also a good test for all lysergamides and tryptamines.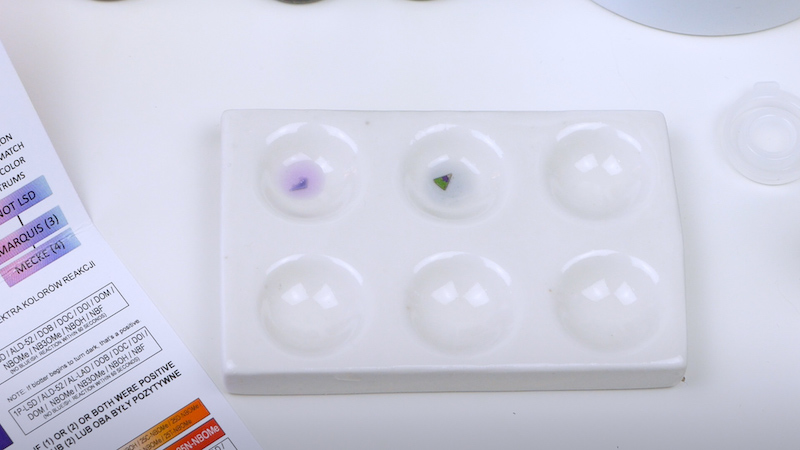 NOTE: Ehrlich reagent deteriorates with time or due to contact with air, especially if exposed to sunlight or not refrigerated. If you are uncertain whether the reagent will work, test it with a previously confirmed sample.
Are you still looking for the best reagent test? See all drug testing kits HERE. Next choose a TLC purity test kit. It allows you to discover full number of ingredients and estimate their amount, however still requires reagent tests to identify detected compounds.
HANDLING
Ehrlich contains acid under and in sufficient amount is strong enough to burn skin and clothing. Keep out of eyes and mouth. Keep away from children. Always use in a well-ventilated area. Wear gloves (supplied) when handling the bottle and cap. Wear protective eyewear. Never point towards face etc. If you get some on you/clothing, then immediately wash with lots of soap and water. Dispose of any unwanted reagent with running water, ventilate. Store reagents away from heat in a cool, dark place. The average shelf life of 1 year can be significantly extended by storing in a fridge or freezer (warm to room temperature before use).
A positive or negative reaction does not indicate if a substance is safe. No substance is 100% safe.